January 19, 2009
I hope lots of people go see Hotel for Dogs this weekend! Why?

1. Who doesn't like dogs?

2. Because it's a Nickelodeon movie...and that helps the company I work for have lots of money to keep its magazine going!

2. Because it's directed by Thor Freudenthal, who is the director of Agnes Quill!

Here's a snippet from a recent interview:

MoviesOnline: Your bio says you wrote comic books? Have you ever thought of doing a comic book movie?

THOR: I totally do. In fact, I'm developing this comedy with Paramount called Agnes Quill and that's an exciting property. I generally like the creation of worlds in a way and grounding those worlds in a reality that's relatable. I grew up actually on the more European side of comics and I loved Tintin and Asterisks and these kinds of things. I wasn't really the Marvel connoisseur. But, yeah, I love anything that's a visual medium and comics and movies are fairly close together to some extent. So, it's an easy translation.

Sidenote: Thor is ALSO directing the film adaptation of the crazy popular (and hilarious) Diary of A Wimpy Kid book series!
Labels: agnes quill, movie
3:21 PM


November 02, 2008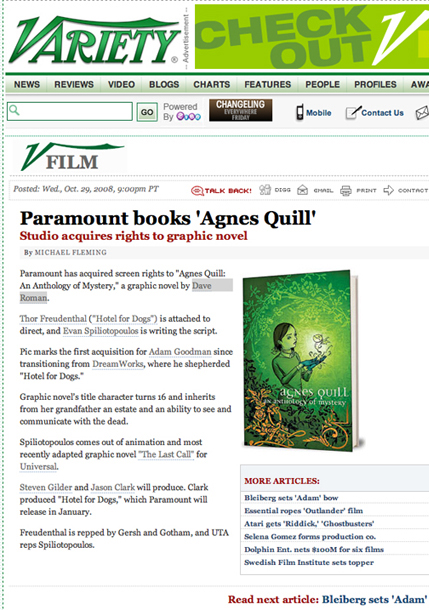 Read the article in Variety!
Labels: agnes quill, movie deal