April 15, 2008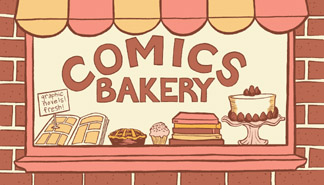 This weekend is the New York Comic Con, the east coast's biggest pop culture event!

You'll find me at the Comics Bakery, booth #2247
with assortment of comics, t-shirts, buttons, and hi-fives.

I'll also be on a bunch of panels!

NICK MAG PRESENTS...AVATAR COMICS & FANDOM SPOTLIGHT
Friday at 6:00 PM - 7:00 PM in ROOM 1E08
-Nickelodeon Magazine gives a behind-the-scenes look at comics produced for Avatar: The Last Airbender and spotlights all the creativity surrounding the fandom for the popular show. There will lots of audience participation, trivia-bending, and prizes for the best cosplayers! We'll also be showing an amazing collection of AMV's, and a special puppet surprise! Featuring: Johane Matte aka Rufftoon (storyboard artist), Dave Roman (comics editor), and Alison Wilgus (comics writer).

FLIGHT EXPLORER - A CONVERSATION WITH KAZU KIBUISHI AND CREATORS
Sunday 11:00 AM - 12:00 PM in Kids, Teen Room 1E08
-Flight Explorer, a spin-off of the award-winning Flight graphic novel anthology series, features fun characters and stories that appeal to young readers and parents who want to introduce their children to graphic novels. Join Flight and Flight Explorer editor Kazu Kibuishi and Flight contributors Amy Kim Ganter (who drew the Zuko/Mai Avatar comic), Johane Matte (Rufftoon!), Phil Craven, Jake Parker, Kean Soo, and Dave Roman for their take on the amazing world of Flight Explorer and all-ages comics!

NICK MAG PRESENTS...3-D COMIC CAROUSEL
Sunday 3:00 PM-4:00 PM in room 1E09
-A series of cartoon slide shows presented by an array of comic strip makers, performers, and other characters. Plenty of gags, goofiness, audience participation and 3-D action! Definitely for kids and alternative-comics-loving adults. Featuring: R. Sikoryak (Drawn and Quarterly), Sam Henderson (Magic Whistle), Kim Deitch (Alias the Cat), Michael Kupperman (Tales Designed To Thrizzle), and Karen Sneider (Pony Up!)

Nick Mag will actually have a film crew documenting our panels for potential future web videos, so please come out and make sure our audience looks full!

BTW: Children 12 and under are admitted for free on Sunday/Kids Day!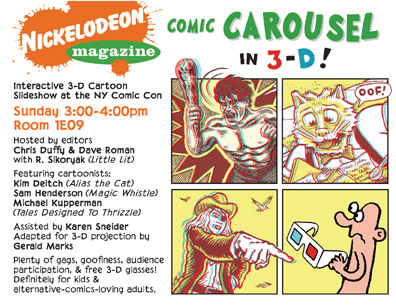 Labels: comics bakery, conventions
12:33 AM


December 05, 2007
I'll be at the New York Anime Festival this weekend!
Organized by the same folks who put on the NY Comic Con, this should be a really huge event!

You can find me with the rest of The Comics Bakery, selling all our comics and merchandise.

I'll also be hosting a panel:

Avatar : The Last Airbender - Comics & Magazines
Friday December 7th from 4 PM - 5 PM
Hosted by Nickelodeon Magazine editor, Dave Roman.
Featuring Avatar magazine contributors Alison Wilgus and Tina Lam.
Anime Panel Room (1A06)

A behind-the-scenes look at the various stages of making the Avatar comics that appeared in the official Avatar magazines, as well as the mini-comics packaged with the single disk DVDs. From story pitches to script revisions, and creating final art for print, this is a chance to find out what goes into making a great comic, and what editors actually do all day! BONUS FUN: There will be trivia-bending competition live on stage! Prizes will be won! Cosplaying encouraged!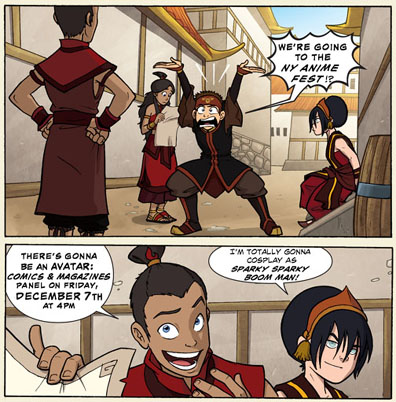 Another panel that might be worth checking out:

Del Rey & Marvel Comics
Sunday, Dec 9th at 3 PM - 4 PM
Join Del Rey Manga and Marvel Comics for a special announcement!
Manga Panel Room (1A24)

Should be cool!
Labels: anime, comics bakery, conventions, manga
11:53 PM


February 21, 2007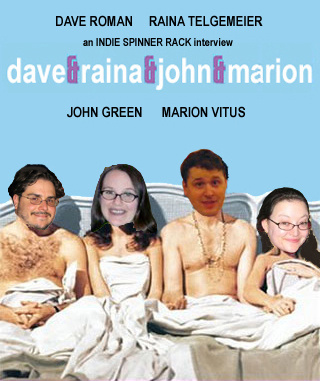 Raina and I, along with our comic-making companions, John Green and
Marion Vitus, are interviewed in a special Valentine's-themed episode of
Indie Spinner Rack.
Warning: It's crazy long, and filled with ramblings,tangents and overtly mushy content. But it was a lot of fun to do, so maybe someone besides our parents will enjoy it!

We didn't get our act together until after we recorded the podcast,
but it's a good time to mention the fact that the 4 of us have created
a new umbrella name for when we do shows and conventions. Instead of
saying 'Cryptic Press and Take-Out Comics and Marion Vitus,' from now
on we'll collectively be The Comics Bakery.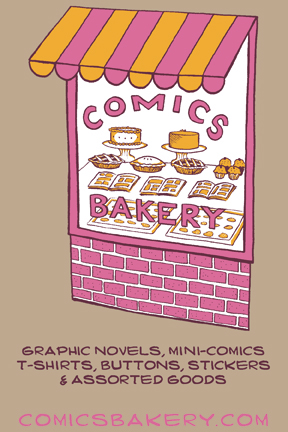 We have quite an eclectic mix of books and product: graphic novels,
mini-comics, traditional comics, zombie videogames, t-shirts, buttons,
fanzines and Wizard Rock CDs. And even though Cryptic Press still
self-publishes the occasional issue of Teen Boat and Astronaut
Elementary, a lot of the projects we've been selling at conventions
are really published by other people (Jax Epoch from AiT/Planet Lar,
Agnes Quill from SLG, Baby-sitters Club from Scholastic, and so on).
So really, we are more like an art collective or traveling warehouse
than a publisher. Not that the world needs ANOTHER art collective,
but this just seems a bit more accurate, especially when we throw
things like Life Meter and Flight into the mix. So, long story short, eventually
we'll have a nicer version of www.comicsbakery.com up with info about
all our various projects, and when we go to conventions that will be
the name to look for us under!

Speaking of which...we'll be at the NY Comic Con this weekend!
In the Artists Alley (Galleria) #A206
Hope to see you there!
Labels: comics bakery