April 30, 2010
The big tour continues! Raina and I will be at these upcoming shows:

TCAF: Toronto Comics Art Fest in Toronto, Canada, May 8th & 9th.

Main Comics Festival in Portland, Maine, May 22nd.

Heroes Con in Charlotte, North Carolina, June 4th-6th.

Kids Read Comics Con in Dearborn, Michigan, June 12th-13th.

Comic Con: San Diego in San Diego, July 21st-25th.

The last 2 events will be with the entire Comics Bakery gang. And there will be a lot more stuff in the fall!!!
Labels: appearances, conventions
8:47 PM


April 22, 2010
This weekend Raina and I will be at the Stumptown Comics Festival in Portland Oregon. Come find us at table 102!

http://www.stumptowncomics.com/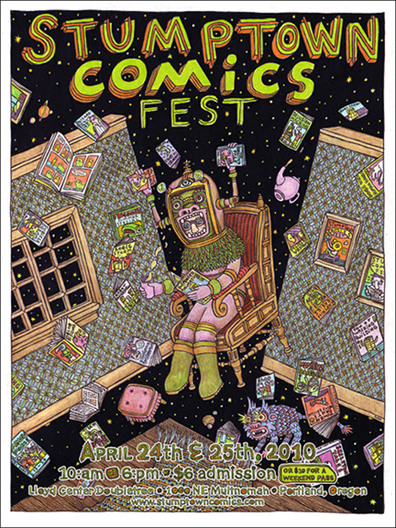 Labels: appearances, conventions
1:32 PM


September 11, 2009
Upcoming events!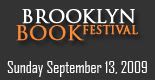 Sunday, September 13, I will be at the The Brooklyn Book Festival! It's a huge, free event taking over much of downtown Brooklyn. You can find Raina at the Youth Stoop in Borough Hall Plaza--the Youth Stoop provides day-long literary activities for youth ages 10-18. This is the panel I'm speaking on:

12:00 pm -1:00 pm. Sci Fi and Fantasy in NYC
Join authors S.C. Butler, Peter Brett, Anton Strout and Dave Roman as they discuss all that is paranormal in NYC.

Immediately after, I'll be signing & selling stuff.

Raina also has a panel at 3:00 called "Love, War and Adventures in Babysitting…Transforming Stories into Comics."

---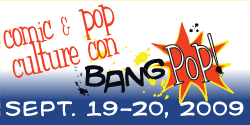 The following weekend, September 19 and 20, Raina and I will be heading up to Bangor, Maine as special guests of the BangPop! Comic Book & Pop Culture Convention, at the Bangor Civic Center. The programming isn't completely current on the site yet, but we'll be giving one panel for educators and librarians, and another for kids. I'll post an update with specific information when I have it. Note that current full-time educators and librarians will receive free admission to BangPop! with current school ID. Raina and I have never been to Maine before but have read about it in comics by Matt Loux. I expect talking lobsters.

---


And then the last weekend in September, look for the entire Comics Bakery at one of our favorite conventions: the Small Press Expo in Bethesda, MD! We'll be debuting Life Meter 3 and Raina will have a new issue of Outreach available. Of course we will have plenty of copies of X-Men: Misfits on hand.
Labels: appearances
1:32 PM


July 18, 2008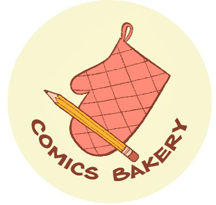 I will be all over the San Diego Comic Con! Here's where to look:

Base of Operations: The Comics Bakery
P2, in the Small Press section. That lines up with aisle 1900, at the very edge of Small Press, so we should be pretty easy to find! Look for the Comics Bakery banner! Also tabling there are fan-favorites like Raina Telgemeier, John Green and Marion Vitus.
We'll have a sampling of comics, zines, T-shirts, buttons, original art, handshakes, and hi-fives.

Summer home: SLG Publishing
If you don't already have a copy of Agnes Quill, this is the place to get it! And I'll draw you something in your book if you come by SLG Thurs. 12-2PM, Fri. and Sat. 2-3PM
Sun. 12:30-2PM.

Moving Castle: FLIGHT comics
The booth number is: 1228 and it will be HUGE! Volume 5 (which has a story by me!) debuts there and should fly like hotcakes with jetpacks.
I'll be stopping by for regular visits to sign and sketch my cares away.

Farewell party:
FRIDAY NIGHT 7:30-9:15 Nickelodeon Avatar: Sozin's Comet
Come out and celebrate the series finale of Avatar the Last Airbender by watching the screening with the show's creators and fans. I'm so there!
Room 6CDEF

Community service: SUNDAY at 10:30-11:30 Kids Draw!
Join a great lineup of kids' cartoonists as they draw their hearts out - right in front of you! Cartoonists including Nick Abadzis (Laika), Debbie Huey (Bumperboy) Johanne Matte (Flight Explorer), Scott Morse (Visitations), Andy Runton (Owly), Kean Soo (Jellaby), and Dave Roman (Nickelodeon) will create art as you watch - with your help! Room 30CDE
Labels: appearances, comic con, conventions
3:06 AM


March 04, 2008
Here's a list of stuff I'll be at in the next few weeks: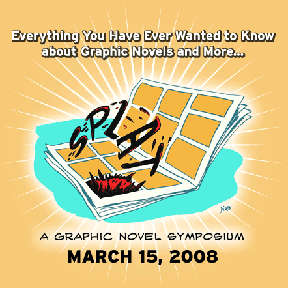 MARCH 15th
SPLAT! A Graphic Novel Symposium
at the New York Center of Independent Publishing (NYCIP)

I'll be participating on this panel:

Comics: For Kids, Too
2:15PM - 3:30PM
When the shift in comics readership came, it caught people by surprise. Even though articles about "graphic novels for adults" are often titled, "Comics: not just for kids anymore!" - the interesting truth is that comics are now read more by adults than by children. This panel brings kid-friendly authors and editors together to talk about the special art of making comics that can capture kids' imaginations and keep them reading comics for life.
Featuring:
Misako Rocks!, Writer and illustrator, Biker Girl, Rock n' Roll Love.
Dave Roman, Nickelodeon Kids editor and comics creator.
David Saylor, Vice President, Associate Publisher and Creative Director for Hardcover Books, Scholastic Inc, and Founding Editorial Director of the GRAPHIX imprint at Scholastic.
Frank Cammuso, Eisner-nominated Creator, Max Hamm, Fairy Tale Detective.
Moderated by Janna Morishima, Director of Diamond Kids Group, Diamond Book Distributors.

MARCH 25th
The Comic Book Club
8:00pm at the Peoples Improv Theater. Tickets are just $5!

This is a live talk show performed weekly at the popular improv theater.
I'll be a guest along with fellow Nick Magazine related folks Evan Dorkin (Milk & Cheese) and Chris Duffy (Bizarro Comics).

MARCH 29th
Kids Comic Con
Bronx Community College
Free for children 17 and under. $5 for all others
I'll have a table with the Comics Bakery.

APRIL 12th
Jim Hanley's Universe
Signing from 2-4PM with Raina Telgemeier (Baby-Sitters Club) and Josh Elder (Mail Order Ninja)

APRIL 18th-April 20th
New York Comic Con
The biggest convention on the east coast is supposedly even bigger this year.
I'll be hosting a panel about a TV show called, Avatar: the Last Airbender on friday afternoon.
(time TBD)
My comics creating co-horts, the Comics Bakery will have a full-sized booth on the main floor and we'll be joined by Kean Soo and Johane Matte of Flight Comics!

APRIL 26th & 27th
Stumptown Comics Fest
Lloyd Center Doubletree hotel in Portland Oregon.
Raina and I are special guests!

MAY 3rd
Free Comic Book Day
Supposedly doing something at a library in NJ. More details to come!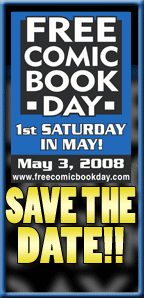 MAY 4th
Sleeping in!

MAY 19th
Going to see the Swell Season!
Labels: appearances, conventions